Dover Forest Resource Site
For the conservation of Dover Forest in Ulu Pandan, Singapore
Dover Forest is a half-century old secondary regrowth forest in the heart of urban Singapore. Bounded by three roads and a concrete canal, its 33-hectares consist of western and eastern patches separated by a mowed grass lawn.
The situation
It was announced in December 2020 that HDB would be offering new Built-To-Order (BTO) flats in Ulu Pandan estate in 2021. While the specific site within the estate was not disclosed, evidence and speculation pointed to a plot within the eastern patch of the forest, adjacent to Ghim Moh Link and Ulu Pandan canal. The strongest evidence were the Environmental Baseline Study of the Dover Forest area conducted in 2017 by HDB, and the 2019 URA Master Plan that marked the whole of the forest for development - vastly for residential use and the rest for a school, a park and some roads. On the other hand, speculation came in many forms, not least that of property websites like this one giving their take on the December BTO announcement.
Nature lovers were sparked to life by the realisation that the forest would soon be cleared. HDB started gathering public feedback on the matter from 20 December 2020 to 16 January 2021. An online petition to HDB was started in early January 2021. Nature Society Singapore published an open feedback to HDB on 15 January 2021, proposing that the forest be conserved. In a parliamentary speech on 2 February 2021, MP for Ulu Pandan ward Mr Christopher de Souza supported the forest's conservation while putting forward an alternative plan for development within his ward. HDB extended their feedback deadline to 1 March 2021.
As it now stands, the dust is settling on the feedback-to-HDB front, the feedback deadline having closed on March 1st. The fate of Dover Forest hangs in the balance awaiting the decision makers' verdict.
About
A short history of Dover Forest. After the British established themselves in Singapore in 1819, the Dover Forest area probably came under the ownership of Malaccan merchant Tan Kim Seng as part of his vast holdings covering Pasir Panjang to the south. The primary forest cover was cleared for rubber and possibly gambier plantations. Between 1900 to 1910, Anxi Hokkiens moved into the area and set up kampongs north and south of the Sungei Ulu Pandan (now the concretised Ulu Pandan canal). The last of the descendants of these pioneering villagers moved out in the early 1980s, after which the present Dover Forest took shape as the secondary forest we see today - Albizia trees colonised the land alongside abandoned fruit trees such as durian, longan and mango, and other trees like Tembusu and various fig species that were probably left untouched by the kampong villagers.
Did you know? The name "Dover Forest" was probably first used in 2013 in this paper by Louise Neo et al. Titled "The Vascular Plant Flora of Dover Forest", it provides a good and concise history of Dover Forest in its introduction, a checklist of the forest's plants, and a good bibliography for further reading.
About me. My name is Chua Chin Tat, and I created this website on 12 February 2021 to collect together the resources to support the conservation of Dover Forest. I am educating myself about the economics of biodiversity, the biodiversity of Singapore's secondary regrowth forests, local and international law with regard to biodiversity, and the history of land use in Singapore (my apologies for the repetitiveness - biodiversity is the key word here). My interest in Dover Forest stems from a lifelong love of nature and a personal attachment to the place - my great-grandfather Chua Kun Tia was one of a group of Anxi Hokkiens surnamed Chua who settled the area as a kampong in around 1905. I hope that an awareness of the rich natural and cultural heritage of Dover Forest would lead to its conservation and protection.
[26 Mar 2021] Here's an article about my wife Masako and me and our work advocating for Dover Forest's conservation. A big thank you to Rice Media, and especially my friends Feline Lim and Zachary Hourihane.
How I'm advocating for Dover Forest's conservation. By pushing all the buttons available, in a scientific and moderate way. Grassroots environmental activism is mostly an uphill battle against overwhelming odds, so every little bit helps. On the other hand the citizen conservationist also has to be careful not to be indiscriminate and to keep everything grounded in facts and in science. My advocacy for Dover Forest's conservation consists of four main strands:
Biodiversity. I aim to show that Dover Forest is habitat to a rich diversity of flora and fauna, and can be a haven to many more if properly connected to other forested areas. To this effect, I'm currently running two projects: the Heritage Tree project, and the Forest of Figs project.
Economics. Faced with the extinction and climate crises, our economics must now be made to properly account for the biosphere, and for us to think about our ethical responsibilities as the overdominant species of our planet. I'm now reading the approximately 500-page Dasgupta Review on the Economics of Biodiversity in an effort to develop this angle.
Community. I'm reaching out to as many people as possible, mainly through my FaceBook page, to engage them in Dover Forest's unfolding story.
History. The environmental history of Singapore and the history of the Dover Forest area are stories that deserve a wider audience, and a bit of relevant knowledge about the past should help to inform current actions. To this end I'm actively researching these histories in order to come up with a coherent story to advance my advocacy.
Currently I'm running two projects to showcase the forest's biodiversity: the Heritage Tree project, and the Forest of Figs project. I'm also reading the approximately 500-page Dasgupta Review on the Economics of Biodiversity to develop the economics angle of my argument, and I'm collecting and reading what I can get about the history of the Dover Forest area.
On 28 February 2021, I submitted my feedback to HDB on the imminent development of the forest, highlighting the presence within the forest of large and probably irreplaceable trees, endangered flora and fauna that were completely missed by HDB in their environmetal baseline study of the area, and also the cultural heritage of the place.
---
Heritage Tree Project
The project. The Enrironmental Baseline Study for Dover / Ulu Pandan (the "EBS") lists 27 "large trees of significance" within Dover Forest that are "conservation-significant" because of "the potential of long-term ecosystem service provision by large tree species (e.g., thermal cooling, carbon sequestration, fauna habitat/food source)." Aiming to raise the conservation value of Dover Forest, I started my Heritage Tree project on 16 February 2021, nominating some of the largest and most significant trees in the forest for Heritage Tree status, while at the same time raising public awareness through social media.
The Heritage Tree Scheme. Started in 2001, the Heritage Tree Scheme aims to conserve Singapore's mature trees and to educate the public about the importance such conservation work. Any member of the public can nominate a tree for endorsement as Heritage Tree. Nominees are inspected by NParks arborists before they are presented to the Heritage Tree Panel, which decides whether to endorse the nominees as Heritage Trees. Heritage Trees are protected and enjoy many perks such as lightning conductors and interpretive signages. Nominations for the 2021 Heritage Tree Scheme cycle must be made by 30 June 2021 - nominations received after this date will have to wait another year to be considered in the 2022 cycle.
The progress thus far. In February 2021, I visited some of the 27 large trees of significance listed in the EBS, photographing them and measuring them for girth - I thought that they must have grown since they were last measured by the EBS surveyors four years ago in 2017. Then, over two days from 26 to 27 February 2021, I submitted to the National Parks Board (NParks) my first five Heritage Tree nominees. In my final feedback to HDB for the conservation of Dover Forest just a day before the 1st March 2021 deadline, I made sure to feature these five nominees prominently, highlighting the presence of old and conservation-worthy trees within the forest.
Since then, I have continued seeking out the larger and more significant trees in Dover Forest, and nominating those that I felt would stand a good chance of being endorsed as Heritage Trees. The 2021 Heritage Tree Scheme cycle closes on 30 June 2021, and there is plenty of time yet to get more of Dover Forest's giants nominated as Heritage Trees!
Here are all of my Heritage Tree nominees, as of 20 May 2021:
My sincere thanks to Brice Li and Leong Kwok Peng whose photographs were used for nominations 5 and 10, respectively.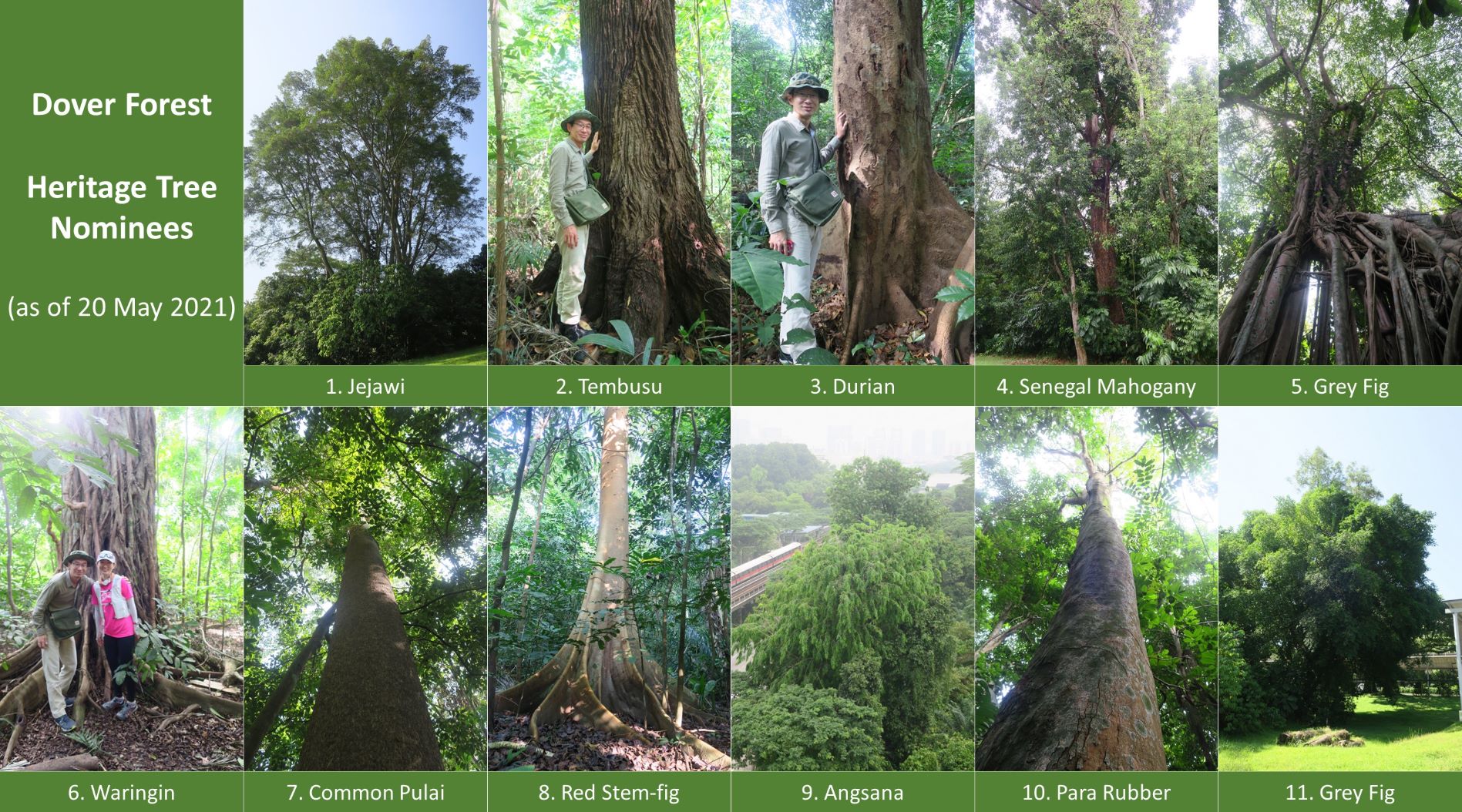 Make your own Dover Forest Heritage Tree nomination. If any one of these heritage tree nominees inspires you, please feel free to submit your own nomination of it as well. It's really simple to make a heritage tree nomination - you'll just have to fill out NParks' heritage tree nomination form, upload a photo of the tree, and click on the submit button. You can make use of my data, description of the trees, and photos - all of which can be found in this table.
Updates
[20 May 2021] Made my 11th Dover Forest Heritage Tree nomination, a Ficus virens located across Technology Drive from the School of Science and Technology. This is the second mature tree of this nationally critically endangered species to be found in Dover Forest, and only the 21st recorded specimen in the whole of Singapore.
[25 Apr 2021] No update from NParks since 13 March. Meantime I've made five more Heritage Tree nominations, for a total of 10.
[13 Mar 2021] I discovered that I would be having a week off from work on the week beginning 12 April 2021, and got in touch with NParks, offering to guide the heritage tree assessors to my nominees any day in that week.
[8 Mar 2021] NParks called to inform me that the first five of my nominations had been received. I was asked if I could help to guide the heritage tree assessors to my nominees, to which I replied that I would be happy to do so on the weekends.
Resources
Happy tree hunting!
A word about tree climbing: I'm against tree climbing, because it can damage the tree. But I'm not going to stop any determined tree climber, beyond this appeal that I posted on Facebook on 17 March 2021. Some friends in the hiking community have told me that I had gained quite a bit of notoriety for that Facebook post, with some hikers taking offence, perhaps interpreting it as a reprimand. My appeal was meant to raise awareness that climbing a tree could cause damage to it, and not to make enemies of determined tree climbers. We shouldn't be fighting over some trees which could be bulldozed any moment by the authorities. In summary: on the one hand I'll sincerely thank you for not climbing a tree, and on the other hand we can still be friends if you're a tree climbing hobbyist.
---
Forest of Figs Project
Dover Forest is habitat to a surprising diversity of figs - from the breathtaking stranglers that twist and wind their way both down towards the earth and up into the sky, and the free standing ones that put out conspicuous bunches of fruit on their trunks, to the less showy species that never develop a tree-like trunk but instead climb up other trees to reach the sun above the forest canopy.
Since February this year when I started exploring Dover Forest and advocating for its conservation, I have become convinced that I must tell the story of the forest's amazing diversity of figs and of their importance as a keystone food resource for a wide variety of animals. The idea is that when the important role of the forest and its figs in supporting Singapore's biodiversity becomes clear, so then will it also become clear that its conservation will serve us more than its destruction, in the great balance of things. That's the main and pragmatic and immediate reason for this project. The other reason is that such a synthesis would be too exciting not to try - to put together something scientifically sound out of all my encounters with the fascinating figs of Dover Forest.
More to come, definitely. Meanwhile, some readings, videos and pictures:
---
In the News
Dover Forest
Seletar forest clearance
Extensive clearance of forest in Seletar discovered on 27 Feb 2021; story not yet picked up by the mainstream media as of 6 Mar 2021.
Kranji woodland scandal
Singapore in general
---
Learn More
Readings
Watch
The Science
(I am now attacking the papers in the bibliography of Neo et al (last item in Readings) and will soon list relevant studies about secondary and non-pristine forests like Dover and the importance of their conservation.)
History
Books
---
People
Minister for National Development of Singapore, Desmond Lee Mr Desmond Lee and his Ministry of National Development (MND) oversee land use in Singapore.
Minister for State, Ministry of National Development, Tan Kiat How
Minister for Sustainability and the Environment of Singapore, Grace Fu Ms Grace Fu and her Ministry of Sustainability and the Environment are one of the spearheads of the Singapore Green Plan 2030.
MP Christopher de Souza Member of Parliament for Ulu Pandan Ward speaking up for Dover Forest's conservation.
---
Gallery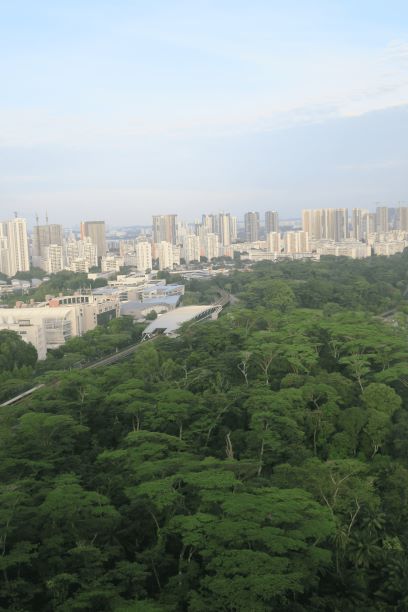 ---